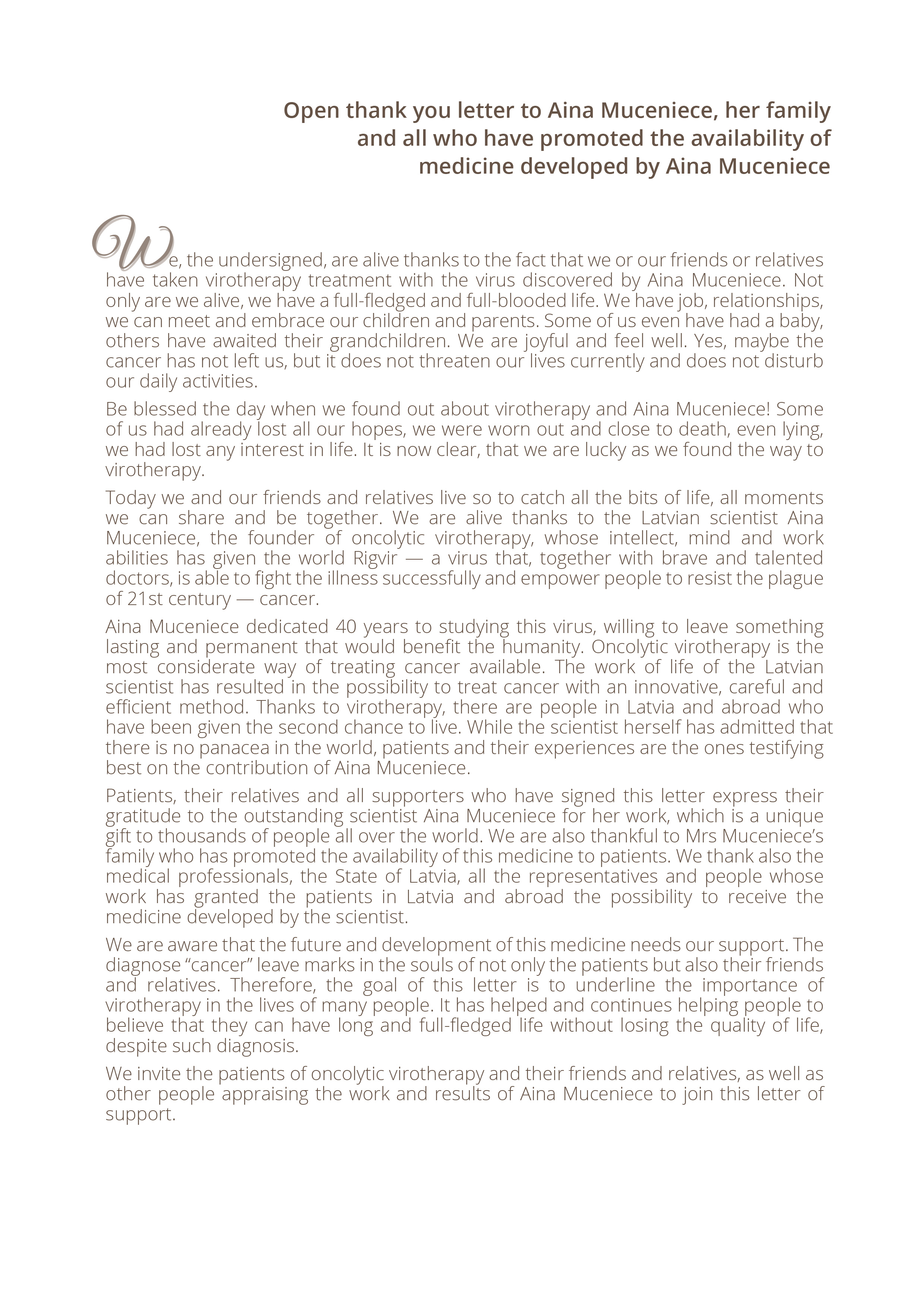 In response to invitation by cancer patients, Aina Muceniece Virotherapy Foundation has drafted an open thank-you letter on the contribution of the Latvian scientist to medicine and availability of the anticancer medicine she developed. The Foundation, patients, their friends and relatives, and some Latvian oncologists already signed the letter thus expressing gratitude to the contribution of the outstanding Latvian scientist to the development of anticancer medicine.
The letter underlines the importance of virotherapy in lives of many people and expresses gratitude for the availability of the virotherapy medicine developed by the scientist. It thanks medical professionals, the State of Latvia, its representatives and all people whose work has resulted in the possibility for many patients in Latvia and abroad to access this safe and innovative cancer treatment.
The first to sign the letter were patients from Latvia who participated in the initiative "Climb for Cancer" organised by the Virotherapy Foundation in the Alps this summer. They challenged the mountains and proved that diagnosis "cancer" is not a death sentence.
"Climb for Cancer" participant Indra Vālande says: "I am a victim of the "traditional cancer treatment". Twice. I think that people must be able to choose between treatment methods. If I had to continue treatment I would choose virotherapy, because I know people whom it has helped. That is why I signed this letter."
Virotherapy Foundation invite virotherapy patients, their friends and relatives, and other people who admire the work and results of Aina Muceniece to sign the letter on the Virotherapy Foundation website. You can also sign at Aina Muceniece Virotherapy Foundation office, P. Brieža iela 15, Riga, on working days from 10.00–17.00.