The goal of Aina Muceniece Virotherapy Foundation is to help people around the world to receive virotherapy and the anti-cancer drug developed in Riga. We provide support to patients and their loved ones during the treatment and overcoming the disease.
Considering the last will of the scientist, author of the drug Rigvir and the founder of cancer virotherapy Aina Muceniece, the Virotherapy Foundation stands up for every oncology patient's right to receive cancer virotherapy as a harmless and potentially efficient treatment.
The Virotherapy Foundation continues providing support to the special compensation system created by the family of Professor Aina Muceniece, ensuring availability of the drug to the Latvian people, especially to children, with significant discounts.
The Virotherapy Foundation facilitates availability of virotherapy around the world.
The Virotherapy Foundation fosters understanding of oncology, treatment of oncological diseases, and opportunities to improve the quality of life using cancer virotherapy.
The Virotherapy Foundation involves oncology patients in voluntary activities supported by the doctors that improve the patients' quality of life and popularise retaining their quality of life during treatment.
Within its compass, the Virotherapy Foundation operates in the areas of charity, health improvement, disease prevention, and protection of patients' rights.
Aina Muceniece Virotherapy Foundation was established on 14 December 2016, six years after the death of Aina Muceniece, prominent professor and inventor of anti-cancer drug.
Aina Muceniece Virotherapy Foundation was established by Aina Muceniece's daughter Dite Venskus, granddaughter Katrīna Pumpuriņa, grandson Jurģis Auziņš, and great grandson Kristaps Reinholds.
Aina Muceniece Virotherapy Foundation is your opportunity to support availability of virotherapy across the world and promote scientific research in the area of virotherapy.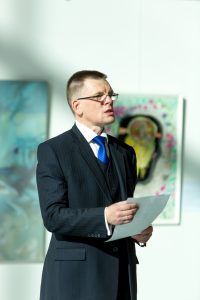 Honorary President of the Fund Mr. Einars Repse
Latvian physicist, financier and politician, former Prime Minister of Latvia.
Has received a 3rd class Order of the Three Stars and the Commemorative Medal for Participants of the Barricades of 1991.
Works at the Foundation without any remuneration, participates at ceremonial events significant for the Foundation, as well as at previously agreed projects, for example, the art competition "Art Wins!".
CONTACT:
Aina Muceniece Virotherapy Fund
Unified registration No. 40008259566
Platones iela 119, Jelgava, LV-3008
Phone: +371 67809861
LV74HABA0551042982392
HABALV22
Swedbank