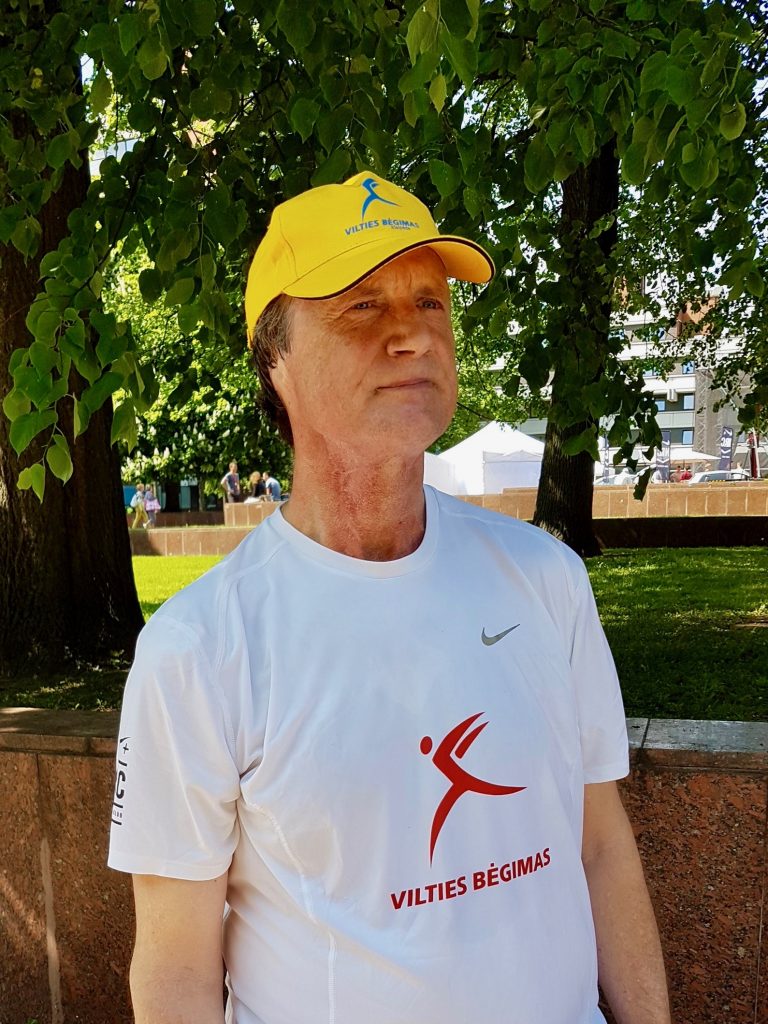 Rita Šneiderienė from Lithuania about her husband:
Talking about the medical history and treatment of my husband Eugenijus Šneideris, I always add: "He got sick in Riga, and he's getting treated in Riga".
Many years ago, my husband went through army service in Riga, in an athletic company. He did long-distance running. Once in winter, it was very cold, he ran without a hat, and got a frostbite on his right ear, which was exposed to the cold wind. The frostbite was so bad that he could peel the skin off his ear like rubber. The ear eventually healed, and the frostbite did not remind of itself ever since.
Many years later, a birthmark-looking brown spot appeared on the right ear. Over a few years, the spot kept growing, and them stopped. Then, changes occurred that transformed the birthmark.
My husband made a big mistake by not going to the doctor immediately. After consulting with the doctor, the events started developing rapidly. A lung X-ray, and all the necessary examinations were done. The surgeon made his decision:'We need to operate urgently, there's no time to lose. Every minute is at stake.'
The ground crumbled under our feet as it seemed that the life was over.
After the operation was over, and the bandages were taken off, I was shocked at what I saw. Only a small part of the ear was removed: the spot itself and a small area around it. The operation was done by a former plastic surgeon, a really good one — who nevertheless did not have enough experience in oncology. Another big mistake was made. My husband was sent for treatment and an operation to the Vilnius Oncology Clinic.
The first operation was completed on 13 December 2010. Diagnosis: (С43,2) right ear melanoma, II st. P T3a NOMO 2 kl. kat. After the operation, my husband was sent to a chemotherapist who did not prescribe any treatment.
Less than a year later, another mass appeared on my husband's ear. Another operation took place on 23 March 2012. The same surgeon performed it. After the operation, a case conference was gathered, and a decision was made: we need another operation, because an insufficient area was removed. This operation was carried out on 12 April 2012.
By the end of 2012, the melanoma affected the lymph nodes of the neck. My husband survived a very difficult operation, after which he spent a few days in an intensive care unit. After the operation, the chemotherapist prescribed a chemotherapy course with interferon.
Just before New Year, my husband was given his first injection. It turned out to be the last, because an hour after it was administered, he almost died. He got shivers, convulsions, and there weren't enough blankets to warm him up. Then my husband started turning blue, could barely talk. We spent a horrific night. Next day, my husband lost most of his ability to walk. It became clear that he would not survive this treatment. Our son was visiting us at the time. He is a microbiologist at the Biochemical Institute in Vilnius. He immediately objected against the chemotherapy and interferon, saying that it would kill his father, and that none of the scientists, his colleagues, who suffered from cancer were subjected to chemotherapy. Angered by this, my son went back to Vilnius without saying goodbye to me.
It was during this difficult time, after hard trials and suffering, that God helped us find out about treating cancer with virotherapy, about the 'Riga virus' medication.
For 10 years, I have been volunteering collecting funds to build a Franciscan chapel and the Centre of Spiritual Support for Cancer Patients. The Centre, which has almost been completed now, provides support to cancer patients, free of charge. The patients also meet the monks. During one of those meetings, I noticed an acquaintance, Egidijaus Kazlauskas. Egidijaus told me that he had melanoma, but was getting treatment in Riga, and gave me the doctor's number.
I will never forget our first conversation with her. I was very stressed, crying, telling her about my husband's illness. The doctor was so attentive and calm that I calmed down myself, and asked: 'Doctor, is it going to help him?' To which I got a clear and stern reply: 'It helps others, it'll help you' (the conversation was about virotherapy).
I saw a glimmer of hope. I felt calm, confident in that everything will turn out fine, that virotherapy will help my husband. My son increased my confidence. As a scientist, he has much more access to information about treatment methods used throughout the world. He sent us all sorts of information. He and his colleagues knew about the 'Riga virus' and virotherapy, and they trusted this method.
We were received amicably in Riga. We met nice people, and a wonderful doctor. My husband was examined, all the necessary tests were made, and the doctor prescribed a 3-month course of treatment, put together an injection schedule, and set the date for the full blood exam, telling us to send its results to her. My husband felt more confident and calmer. He was under our doctor's good, careful and attentive supervision.
He went through the injections very well. There were no secondary effects. I remember that on day 2 or 3, his face got rounder, began to change. The virus developed in Riga started showing its beneficial effect.
Meanwhile, another small mass formed on the ear. However, this time we got a good surgeon in Vilnius. He gathered five more surgeons and showed them the results of the treatment: 'Look: surgeons in Klaipėda work like butchers. It's a crime that plastic surgeons operate melanomas.'
A decision was made to amputate the ear. To think that I begged the doctor in Klaipėda to remove the entire ear from the start, and he just laughed: how would your husband live without an ear?.. Oncologists in Vilnius told that, had the ear been amputated immediately, the melanoma would have been removed and would not have entered the neck, because it was of a nodal type. My husband would have been completely cured.
The operation was completed. My husband felt well, because he knew that his body was saturated with 'Riga virus' injections doing their good work. We called our doctor in Riga to consult on how and when to make injections. We also got a lot of moral support.
The doctors in Vilnius heard about the 'Riga virus' and virotherapy for the first time. We told them where and how my husband was treated. I left them brochures about virotherapy.
In Vilnius, they found that the lymph nodes in my husband's neck were affected, but stable. Now, we are confident in our knowledge, and we tell everybody that our reliable 'Riga virus' helps my husband and maintains his health. We tell everybody that only VIROTHERAPY can really cure melanoma.
Over the last few years, my husband regularly undergoes virotherapy treatments. And the result is obvious. After such a severe diagnosis, he now feels well, can work, lead a normal life. He even went back to running. We live in a resort town, there is the sea and a pine forest nearby. My husband jogs there once or twice a week. How would someone with a diagnosis like this be able to do it?
We can confidently say that virotherapy, virus injections, have enabled this.
My husband surprised everyone in Klaipėda! For the last 10 years, in May, there is a running competition to collect funds and build the Centre of Spiritual Support for Cancer Patients (where I have volunteered for 10 years). This competition, called Vilties bėgimas, was proposed and is organised by Franciscan monks Every year, it gathers some 5000 participants from many countries, including Latvia. Last year, I heard this during the award ceremony: 'On the 10-km route in the senior group, 3rd place was taken by Eugenijaus Šneideris.' I was so surprised, I dropped the award. I turned out that my husband joined the award without telling, knowing that I wouldn't let him run 10 kilometres. Ten kilometres!I started crying, saying that he wasn't being careful enough, that running could be harmful and could shake up his lymph nodes… Everybody was calming me down. I finally did when my son called and said that even if his father shakes up the lymph nodes, the viral medication will find the atypical cells and do what needs to be done. Because he is getting good treatment. This year, my husband ran in the competition again, and got another medal.
Eugenijus Šneideris who achieved such results is a living proof of the positive effect of VIROTHERAPY and virus injections.
People who have got a grim diagnosis are in dire need of spiritual support. Most of such patients come to our Centre of Spiritual Support for all kinds of help. When the patient has melanoma, the head of the Centre immediately directs them to us, so that we can tell them about our treatment and our experience with it. We brought virotherapy brochures to the Centre from Riga, so that all cancer patients could find out about it.
It is unfortunate that no such treatment is offered in Lithuania, because virotherapy and ampules with the medication are not available to those whom these could help.