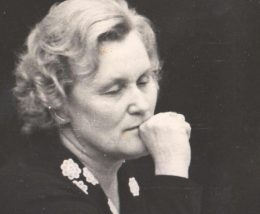 Aina Muceniece
Dr.habil.med., Emeritus Scientist
---
Born – 1924 Katlakalna parish;
Education – University of Latvia, Faculty of Medicine;
Work experience – Latvian Academy of Sciences Institute of Microbiology, head of Cancer Virotherapy Laboratory, Scientific Consultant on Immunology Problems;
Publications – three scientific monographs, 190 publications;
Awards – Cross of Recognition of the Republic of Latvia for special service to the Latvian State (2005).
---
Aina Muceniece (1924 – 2010) was the Latvian scientist, habilitated Doctor of Medicine, State Emeritus Scientist in immunology and virology, the founder of virotherapy and the inventor of the anti-cancer drug RIGVIR.
During the 1950s, while studying the viruses living in the intestines of small children, A. Muceniece discovered a phenomenon that these viruses are capable of destroying cancer cells.
She continued her research in the laboratories of the Augusts Kirhensteins Institute of Microbiology of the Latvian Academy of Sciences. There, A. Muceniece studied and discovered a particular virus that had the most powerful cancer-cell destruction capability, and she called it RIGVIR (Riga virus). With no support or assistance from the state, A.Muceniece persistently continued to work on her discovery and finally the drug found its place on the shelves of pharmacies.
A. Muceniece saw her patients at the Oncological Dispensary Polyclinic of the Republic, now Oncology Centre of Latvia (1977– 1981), and the Pauls Stradins Clinical University Hospital (1981–2003). She evaluated their immune systems and advised about the possibilities of cancer virotherapy and immunotherapy. Being amazingly compassionate and sympathetic, she treated her patients not only with drugs but also with kind words. Her attitude encouraged patients and gave them hope in healing and recovery, and that is what matters the most in the fight against the disease. Until the very last days of her life Aina Muceniece constantly reminded her doctor colleagues that they should not neglect the role of immunity. They should consider the opportunities of immunity in general health preservation and restoration, and especially in oncopathology.
In 1992, A. Muceniece was awarded the Latvian Academy of Sciences, honorary member status, but in 2002 – Latvian Association of Oncologists honorary member status. For the outstanding merits for the Republic of Latvia A. Muceniece was awarded the Cross of Recognition (Croix de la reconnaissance) of the Republic of Latvia in 2005.
Although the state did not try to support A. Muceniece in her research financially, the scientist was a true patriot of Latvia. At the time when she carried out the sensational discovery A.Muceniece received an invitation from a pharmaceutical company in Switzerland offering her further research and production of the drug, but the scientist declined this offer — she considered that the drug has been primarily created for the inhabitants of Latvia. "It is my job. I am the expert of the usage of this drug, and I wish from the bottom of my heart that my discovery stays in Latvia", said A. Muceniece. This wish has been also documented as her last will.
The anti-cancer drug RIGVIR has been nominated as one of the most unique achievements of Latvian scientists in the world.
---
Zinātne
Mēs saknēs turamies,
No saknēm augam.
Mēs degam, liesmojam.
Mēs – zinātkāro cilts.
Mēs jaunus liesmu asnus dedzam.
Mēs tālāk redzam.
Mēs – zinātkāro cilts.
Zinātne, zinātne vienojies,
Cilvēci sargāt, apsolies.
Mēs rokās turam domu spēku
Un domu spēks – mūs' ierocis.
Lai spēks šis gaismā pārstaro
Un cilvēkcilti apgaismo.
Lai sirdsapziņu modina
No ļaunuma, kas pasargā.
Zinātne, zinātne vienojies,
Cilvēci sargāt, apsolies.
Mēs saknēs turamies.
No saknēm augam.
Mēs degam, liesmojam.
Mēs – zinātkāro cilts.
Mēs dzīvīb's vārdā savas domas raisām.
Mēs dzīvībai un dzīvai domai kalpojam.
Zinātne, zinātne vienojies,
Cilvēci sargāt, apsolies.
A.Muceniece
Kleistos 16.11.1988.