Cancer is not a "life diagnosis"
It does not matter if you are tall or short, unable to pronounce the letter "r", or if you are a 100 % healthy person. We all are different, but of equal worth. All of us have equal opportunities to fight for our life and to live to the fullest, enjoying everything that this world can give us. The diagnosis "cancer" cannot forbid it either.
Unfortunately, from patients who found out they have cancer I frequently hear that they feel different, like "a person who is not accepted in the society". At work they are perceived differently, maybe they even get fired because of the illness as they will certainly not be as productive as before etc. And the people around them, too, start to treat them differently – like an ill person.
My position has always been that oncological patients are the same human beings like anyone else. Yes, they may experience times when life seems tougher than one would have preferred. There are times when they are unable to do as much as they would like to. Nonetheless, being entirely honest, I can say that I have not met any patient who would have considered themselves to be "different" on the inside. This is a stigma mainly imposed by our society – if you are ill, you are different and you must be treated differently.
It must be stressed, though, that this is not the practice everywhere in the world. There are countries in which cancer patients are treated with tolerance and kindness both by their relatives and strangers. There are countries in which cancer patients are protected, supported and helped not only by their family members and relatives, but also by their colleagues. Yes, they are not pitied and cared for like a sufferer, but supported, listened to and looked after by being there by their side. In more open societies people are not ashamed of the diagnosis, it is not concealed and hushed up, because it is not perceived as a punishment, curse or another unthinkable karmic wrongdoing. My biggest wish is that our society also would open up, become able to accept our diagnosis and talk about it. If one cannot say it out loud, then at least do it in half-whisper, because the pain that has been talked out is a lesser pain, and a shared sorrow is half a sorrow.
I am proud of the individuals who do not surrender when confronted by oncological illness. And we at the Virotherapy Foundation try to support these people as much as we possibly can. For example, last year eight oncological patients took part in the expedition "Climb for Cancer", which was organised by the Foundation, to the French Alps in order to reach Mont Blanc (4810 m). People with their own diagnosis, stages of illness, others still in their treatment process dared to say yes to this challenge with the aim to prove that they can do it, and, therefore, you as well have no reason to be afraid!
I am always glad to receive e-mails or calls from patients and find out how they are doing. We do not know and do not pay attention to how many of loving mothers, fathers, successful entrepreneurs, cultural figures etc. are fighting for their life every single day and at the same time are not afraid "to live", too. They are people who inspire.
This time I would like to talk about one individual who encouraged me to write this article. He is Solyizhan – husband, father, grandfather, highly esteemed employee and Stage IV cancer patient. He is an always-smiling and cheerful Chechen. I have never heard him complain about his illness, he is thankful for his life and he also supports others. He was also a participant of the expedition to the Alps. Since then, mountains in a way have become a part of his life. The most recent challenge that Solyzhan took up was to reach the 2250 m summit of a mountain. He was successful in his climb and dedicated his achievement to other cancer patients. Find out more about Solyizhan's climb here.
Solyizhan once more proved that the human being is capable to achieve great things if they want to, and that cancer is not an obstacle. This is yet another mountain top on which Virotherapy Foundation's flag will be waving! I am grateful to him for this. I am grateful also for the love and support which he unselfishly gives to the Foundation. I hope that his story will inspire others to strive towards reaching their goals. Because cancer is not a "life diagnosis" that makes a person different. Everything is possible/achievable, and mountains, too, are not an obstacle!
I would like to note that soon a documentary about oncological patients climbing Mont Blanc will come out (the trailer at the bottom). It will be a story about the life before and after the diagnosis, about bravery and victory.
I must confess that I am very afraid of heights. When I was watching the videos from the Alps, it gave me goose bumps and my heart leaped in my chest. But they, our fighters against cancer, were there and experienced it all with their own eyes. They were able to do it as can we if only we want to. And we will not accept excuses that somebody is better or that they have better living conditions, because we all are of equal worth!
10.05.18.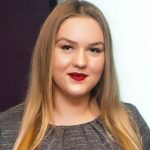 Ainita Kamša
Executive Director of Aina Muceniece
Virotherapy Foundation