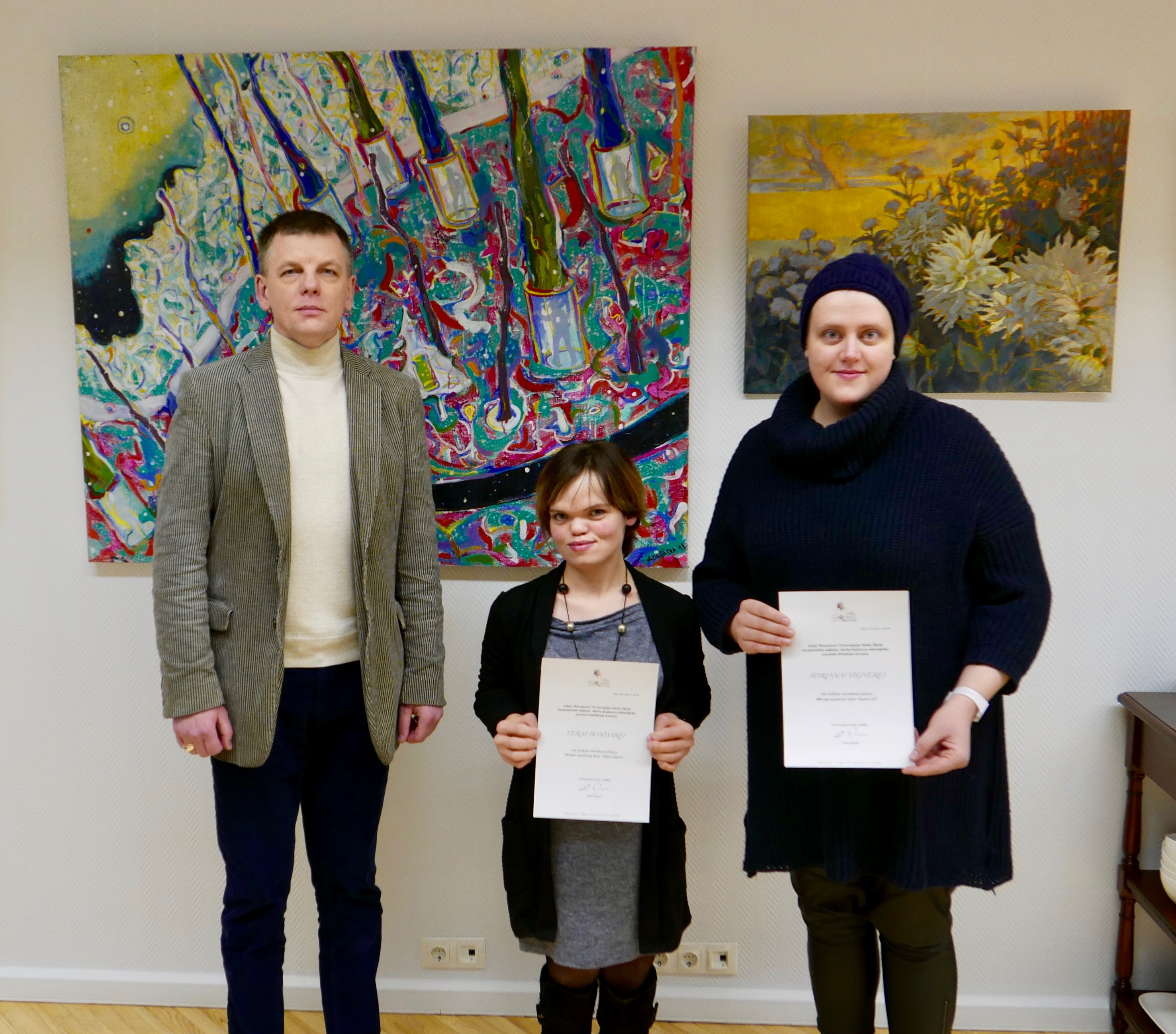 At the beginning of the year, the evaluation committee of the international and permanent artwork competition of the Aina Muceniece Virotherapy Foundation evaluated recently submitted artworks. The incentive prizes were awarded to Vera Bondare, Adriana Vīgnere and the distinguished Latvian artist Džemma Skulme.
Vera Bondare has submitted two of her works, one of which — "Lilac Blossoms in a Park in Riga" ("Ceriņi zied parkā, Rīgā") has already been displayed in the first "Art Wins!" exhibition which took place at the Pauls Stradiņš Clinical University Hospital. This time, Vera received the prize for her latest work "White Georgini" ("Baltās jurģīnes"). When receiving the prize, Vera said that she is delighted that with her works she is able to bring joy to people and create harmony both of which are crucial for maintaining strength and willpower in life. She also emphasises that art should be available to everyone and be seen as an old friend to whom you go to seek inspiration.
Another contestant who submitted her work for the competition was the young and up-and-coming artist Adriana Vīgnere who has been painting since she was little and describes her works as her visible thoughts, feelings and lifestyle. Cancer is something she has had to deal with within her family, too, which is why she wants to help patients to create emotions and encourage reflection with her works, thus making their lives richer and helping them gain new energy. Adriana is determined to create new artworks which would inspire patients and that is why she will use the incentive money prize to renovate her workshop.
The distinguished Latvian artist Džemma Skulme also submitted her artwork to bring joy to patients and help in their fight against the illness. The painting "All Day Sun" ("Saule visu dienu") depicts nature and the sun. The artist says about her artwork the following: "Same as with life, art also faces threats and fears which in the end must be overcome. That is where the power of creating stems from. And we also need to find this power of creating when going through treatment, and when we need to win the illness. The Sun and its light depicted in the painting hopefully will help in difficult situations as the Sun is the symbol of eternity and life which inspires and spiritually enlightens."
Artwork competition "Art Wins!" organised by the Foundation still continues and every artist and art enthusiast is welcome to submit their new works which would inspire patients during their fight against oncological illnesses and to win the battle. More information on Virotherapy Foundation website: www.virotherapyfoundation.org section "Competition".