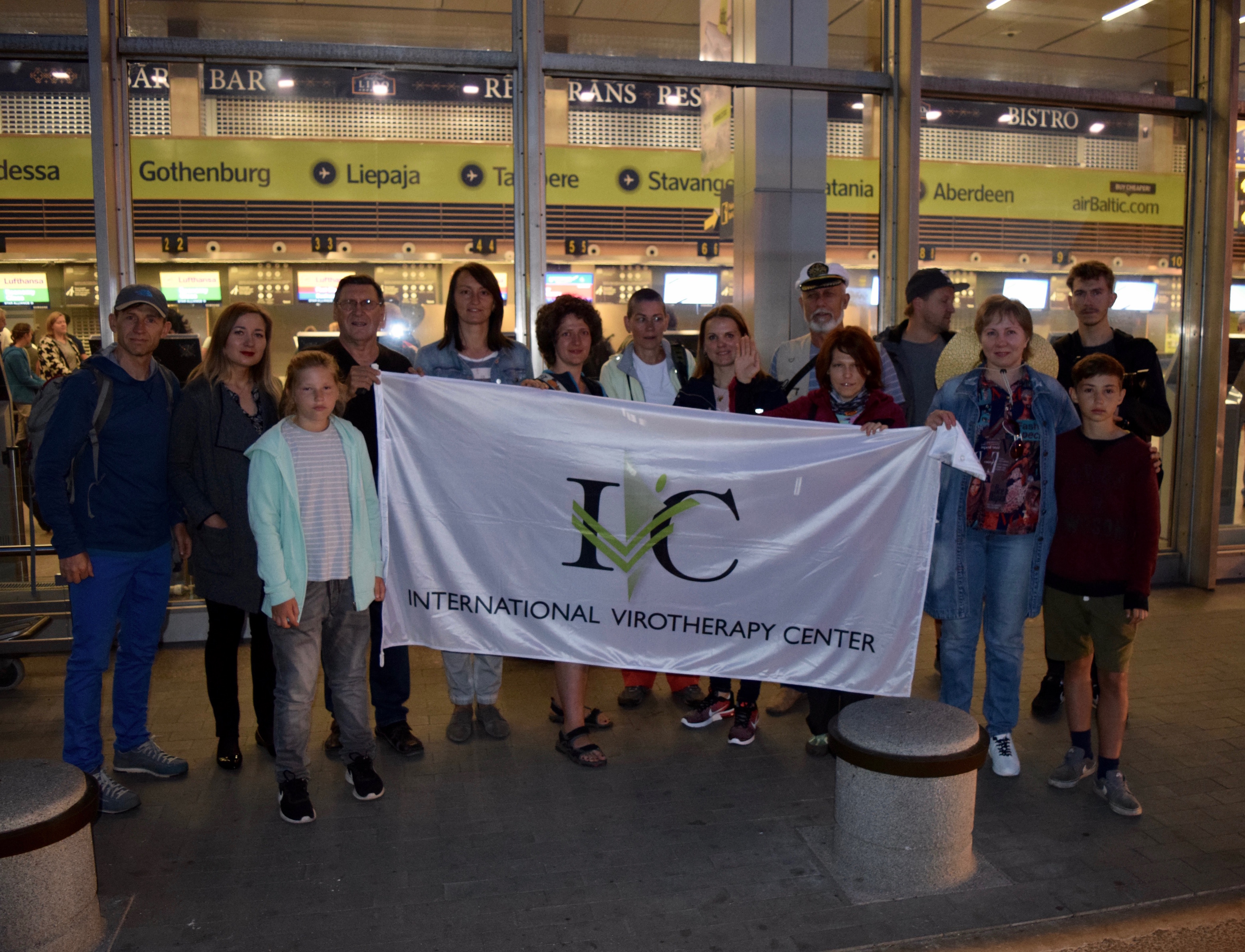 Aina Muceniece Virotherapy Foundation and "Kalnu Grupa" (Mountain Group) organise the event "CLIMB for CANCER" from 29 July to 12 August, in support of oncology patients. It takes place in the European Alps with a goal to reach the peak of Mont Blanc, and its participants are oncology patients from Latvia, the United States, Ukraine, Russia and Chechnya. 
Early this morning, on 29 July, all participants of the expedition began their way from Riga Airport towards the peak of Mont Blanc; they flew to Geneva where they will continue their way to Chamonix at the foot of the French Alps. There, the participants will spend two weeks learning the skills required for mountain climbing, and will then start their journey to the mountain peak.
The goal of this project is to encourage and inspire oncology patients to overcome the illness, to promote resistance against it, as well as maintain the quality of life during the treatment period. In the course of "CLIMB for CANCER" eight oncology patients who have successfully battled malignant tumours and already overcome them, will participate in activities that have been assessed by doctors. The participants of the climb are: Jane Bailey (USA), Elita Bušmane, Indra Vālande, Jevgēņijs Odincovs, Zane Cinglere – Kraukle (Latvia), Kristina Jakovenko (Ukraine), Solyzhan Elsunkayev (Chechnya) and Zoja Sokolova (Russia). The instructors for the climb will be mountain climbers Kristīne Liepiņa and Kristaps Liepiņš, who are well known in Latvia.
During this event, the participants will share their experience and stories of their lives, which will be published as video diaries on Facebook, Twitter, YouTube in order to promote society's understanding of oncological diseases and to inspire other patients. The event and the stories of participants will be included in a documentary.
We invite you to support the "CLIMB for CANCER" initiative by climbing the mountain of your choice, a peak or climbing to the top floors of a skyscraper and sharing your successes on social media. All actions taken in support of the initiative will be recorded in the total counter of the climb, which will be available on the website of the Aina Muceniece Virotherapy Foundation www.virotherapyfoundation.org and on social media. The purpose of this campaign is to invite people to challenge themselves, step out of their comfort zones, as well as promote an active and healthy lifestyle. In order to participate in the campaign, record the number of steps you have climbed on your social network entry and use the hashtag #cancerclimb.